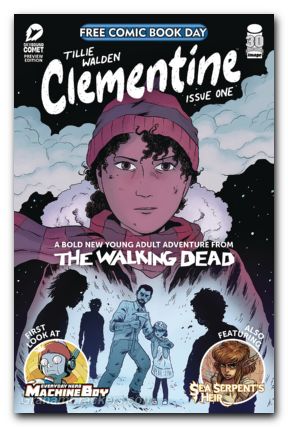 FCBD 2022 Clementine #1
$1.99
Quantity
Add to Cart
Add to Wishlist
VERY FINE/NEAR MINT
The next big thing from Robert Kirkman's THE WALKING DEAD is here! Get the complete first chapter of Clementine Book One, by award-winning author Tillie Walden (On A Sunbeam, Spinning)! Plus, an extended look at Everyday Hero Machine Boy (by Irma Kniivila and Tri Vuong) and Sea Serpent's Heir (by Mairghread Scott and Pablo Tunica), the next can't miss OGNs from SKYBOUND COMET, our all-new imprint for Young Adult and Middle Grade readers! Features an all-new FCBD exclusive cover by Tillie Walden. Preview Material Rating: Teen (or Teen+)
*** pick just 3 FREE COMICS on 5/7/222 - FREE COMIC BOOK DAY
Date Available: 04/13/2022

BONUS REVIEW by

Anthony F.






Like most people who were excited about Clementine finally making her comic book debut in Skybound X #1 last summer, I adored The Walking Dead Telltale video game series. It captured the magic of The Walking Dead in it's heyday, when you find yourself deeply emotionally invested in characters that you know you shouldn't be because it's STILL a zombie story and it's STILL a Robert Kirkman story. Your darlings are never safe and your enemies are absolutely vile, vicious people who will stop at nothing to break your heart in the most violent way possible.
Well, turns out a bloody end and/or becoming a Walker isn't the worst thing that can happen to your favorite characters! Remember that little girl you watched grow up and become a young woman with a personality all her own over countless hours of gameplay? The one who became a loving, selfless parent to a little boy who had no family left alive and promised time and time again that she would never leave him? Who put her life on the line multiple times and watched others die just to ensure the two of them got the happy ending they both deserved, together!?
Tillie Walden wants you to know that none of it mattered. Apparently, Clementine never had much of a personality at all and would willingly walk away (or worse yet, try to sneak away in the middle of the night) from her adopted son AJ, breaking her promise, because she's "not happy". Got it. Cool.
2 out of 10 Grahams because there are two other stories (Everyday Hero Machine Boy and Sea Serpent's Heir) in the back pages of this book.

I give it 2 out of 10 Grahams


VERY FINE/NEAR MINT
The next big thing from Robert Kirkman's THE WALKING DEAD is here! Get the complete first chapter of Clementine Book One, by award-winning author Tillie Walden (On A Sunbeam, Spinning)! Plus, an extended look at Everyday Hero Machine Boy (by Irma Kniivila and Tri Vuong) and Sea Serpent's Heir (by Mairghread Scott and Pablo Tunica), the next can't miss OGNs from SKYBOUND COMET, our all-new imprint for Young Adult and Middle Grade readers! Features an all-new FCBD exclusive cover by Tillie Walden. Preview Material Rating: Teen (or Teen+)
*** pick just 3 FREE COMICS on 5/7/222 - FREE COMIC BOOK DAY
Date Available: 04/13/2022

BONUS REVIEW by

Anthony F.






Like most people who were excited about Clementine finally making her comic book debut in Skybound X #1 last summer, I adored The Walking Dead Telltale video game series. It captured the magic of The Walking Dead in it's heyday, when you find yourself deeply emotionally invested in characters that you know you shouldn't be because it's STILL a zombie story and it's STILL a Robert Kirkman story. Your darlings are never safe and your enemies are absolutely vile, vicious people who will stop at nothing to break your heart in the most violent way possible.
Well, turns out a bloody end and/or becoming a Walker isn't the worst thing that can happen to your favorite characters! Remember that little girl you watched grow up and become a young woman with a personality all her own over countless hours of gameplay? The one who became a loving, selfless parent to a little boy who had no family left alive and promised time and time again that she would never leave him? Who put her life on the line multiple times and watched others die just to ensure the two of them got the happy ending they both deserved, together!?
Tillie Walden wants you to know that none of it mattered. Apparently, Clementine never had much of a personality at all and would willingly walk away (or worse yet, try to sneak away in the middle of the night) from her adopted son AJ, breaking her promise, because she's "not happy". Got it. Cool.
2 out of 10 Grahams because there are two other stories (Everyday Hero Machine Boy and Sea Serpent's Heir) in the back pages of this book.

I give it 2 out of 10 Grahams