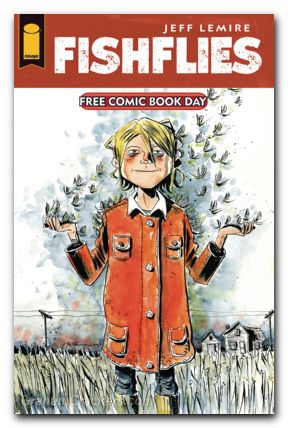 FCBD 2023 Fishflies #1 *LIMIT 3 FREE COMICS TTL ON FCBD *
$1.99
Quantity
Add to Cart
Add to Wishlist
VERY FINE/NEAR MINT
(W/A/CA) Jeff Lemire
The newest series from New York Times bestselling and Eisner Award-winning writer/artist JEFF LEMIRE (THE BONE ORCHARD MYTHOS, LITTLE MONSTERS, GIDEON FALLS, Sweet Tooth, Essex County). The town of Belle River is infested with fishflies and the streets are carpeted with tiny insects… but that's just the start of the strange happenings and bad omens! When Franny Fox runs away from home, she befriends a strange, silent monster and sets off a chain of events that will unite the entire town in terrible ways. FISHFLIES #1 will clock in at an expanded 64 pages and land in stores this June-so don't miss out on this exclusive Free Comic Book Day preview issue for an early look! Exclusive Original Material Rating: Mature
Date Available: 04/05/2023

BONUS REVIEW by

Jim B.








The Image Comics Free Comic Book Day 2023's offering is Jeff Lemire's FISHFLIES. A rural tale of horror, mystery and crime whose backdrop is that of the summer emergence of hordes of mayflies upon a summer night. Interrupted with mysterious time-jump this is a story splattered with violence and strong language. *NOTE: this comic is not for kids, this is Red-Bannered FCBD title meaning it is a Mature Rated 18+ comic book. Jeff Lemire writes, draws and paints this issue. This FCBD comic is a preview book of the upcoming 2023 Giant-Sized Summer Series, FISHFLIES! Lots of mysteries are packed into this preview comic book including just who is this mysterious character on the cover and how does she fit into the story. Find out this summer when the series emerges from the pages of the Image Comics series, FISHFLIES!



I give it 8 out of 10 Grahams


VERY FINE/NEAR MINT
(W/A/CA) Jeff Lemire
The newest series from New York Times bestselling and Eisner Award-winning writer/artist JEFF LEMIRE (THE BONE ORCHARD MYTHOS, LITTLE MONSTERS, GIDEON FALLS, Sweet Tooth, Essex County). The town of Belle River is infested with fishflies and the streets are carpeted with tiny insects… but that's just the start of the strange happenings and bad omens! When Franny Fox runs away from home, she befriends a strange, silent monster and sets off a chain of events that will unite the entire town in terrible ways. FISHFLIES #1 will clock in at an expanded 64 pages and land in stores this June-so don't miss out on this exclusive Free Comic Book Day preview issue for an early look! Exclusive Original Material Rating: Mature
Date Available: 04/05/2023

BONUS REVIEW by

Jim B.








The Image Comics Free Comic Book Day 2023's offering is Jeff Lemire's FISHFLIES. A rural tale of horror, mystery and crime whose backdrop is that of the summer emergence of hordes of mayflies upon a summer night. Interrupted with mysterious time-jump this is a story splattered with violence and strong language. *NOTE: this comic is not for kids, this is Red-Bannered FCBD title meaning it is a Mature Rated 18+ comic book. Jeff Lemire writes, draws and paints this issue. This FCBD comic is a preview book of the upcoming 2023 Giant-Sized Summer Series, FISHFLIES! Lots of mysteries are packed into this preview comic book including just who is this mysterious character on the cover and how does she fit into the story. Find out this summer when the series emerges from the pages of the Image Comics series, FISHFLIES!



I give it 8 out of 10 Grahams