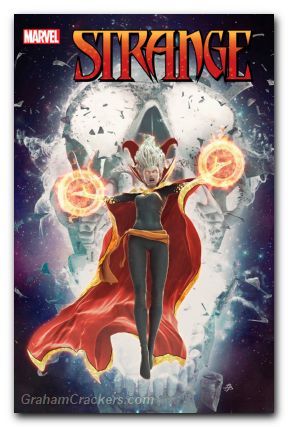 Strange #1 (2022)
$6.00
Quantity
Add to Cart
Add to Wishlist
VERY FINE/NEAR MINT
(W) Kieron Gillen
(A) Lucas Werneck
(CA) Oscar Vega
A NEW SORCERER SUPREME RISES! Doctor Strange is dead! And a new Sorcerer Supreme has taken the title, or should we say Sorceress? Haunted by her recently returned memories, Clea longs to bring Stephen Strange back from the dead! But when a mysterious group attacks the magical realm, Clea must rise to the duties of Sorcerer Supreme. For she is now the sole protector of Earth against magical threats. Don't miss the twists and turns as Jed MacKay continues the story from DEATH OF DOCTOR STRANGE with artist Marcelo Ferreira (THE AMAZING SPIDER-MAN)!
Date Available: 03/02/2022

BONUS REVIEW by

Jim B.








Doctor Strange is dead and the world needs a Sorcerer Supreme. Dr. Stephen Strange's true love, Clea now has the Eye of Agamotto and the Cloak of Levitation along with the title Sorcerer Supreme! Writer Jed Mackay picks up the story of the DEATH OF DOCTOR STRANGE with the help of artists Marcelo Ferreira and Don Ho. They weave a tale of the ultimate quest to return Dr. Stephen Strange to the ones that love him. If you enjoyed the comic mini series DEATH OF DOCTOR STRANGE, then welcome back to the world of magic. If you missed the 5 part Marvel Comics series, no worry. This new number one catches you up. And you can always track down the DEATH OF DOCTOR STRANGE trade paperback in the future. And as a side note: Don't believe our GCC writer/artist information listings for these different variant covers for this title. For some STRANGE reason each different cover lists different creative teams— --S T R A N G E-- ! 8 out of 10 Graham Crackers



I give it 8 out of 10 Grahams


VERY FINE/NEAR MINT
(W) Kieron Gillen
(A) Lucas Werneck
(CA) Oscar Vega
A NEW SORCERER SUPREME RISES! Doctor Strange is dead! And a new Sorcerer Supreme has taken the title, or should we say Sorceress? Haunted by her recently returned memories, Clea longs to bring Stephen Strange back from the dead! But when a mysterious group attacks the magical realm, Clea must rise to the duties of Sorcerer Supreme. For she is now the sole protector of Earth against magical threats. Don't miss the twists and turns as Jed MacKay continues the story from DEATH OF DOCTOR STRANGE with artist Marcelo Ferreira (THE AMAZING SPIDER-MAN)!
Date Available: 03/02/2022

BONUS REVIEW by

Jim B.








Doctor Strange is dead and the world needs a Sorcerer Supreme. Dr. Stephen Strange's true love, Clea now has the Eye of Agamotto and the Cloak of Levitation along with the title Sorcerer Supreme! Writer Jed Mackay picks up the story of the DEATH OF DOCTOR STRANGE with the help of artists Marcelo Ferreira and Don Ho. They weave a tale of the ultimate quest to return Dr. Stephen Strange to the ones that love him. If you enjoyed the comic mini series DEATH OF DOCTOR STRANGE, then welcome back to the world of magic. If you missed the 5 part Marvel Comics series, no worry. This new number one catches you up. And you can always track down the DEATH OF DOCTOR STRANGE trade paperback in the future. And as a side note: Don't believe our GCC writer/artist information listings for these different variant covers for this title. For some STRANGE reason each different cover lists different creative teams— --S T R A N G E-- ! 8 out of 10 Graham Crackers



I give it 8 out of 10 Grahams