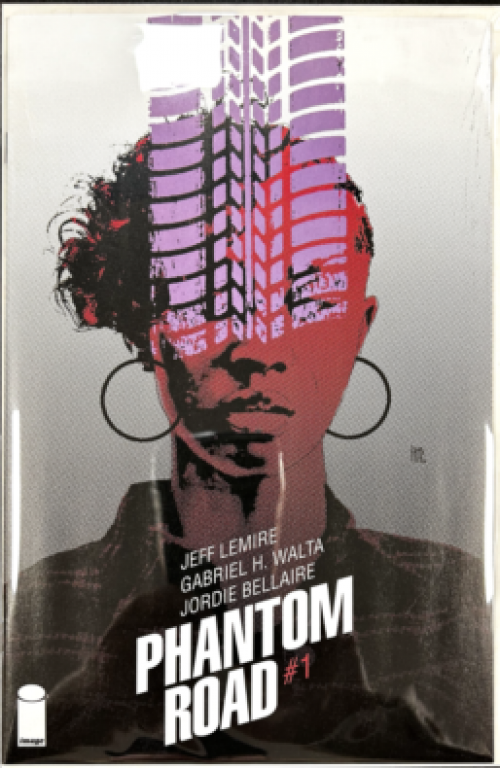 Phantom Road #1 comics pro variant
Out of Stock
Quantity
Add to wantlist
VERY FINE/NEAR MINT
(W) Jeff Lemire
(A) Gabriel Hernandez Walta, Jordie Bellaire
(CA) Gabriel Hernandez Walta
MINISERIES PREMIERE Dom is a long-haul truck driver attempting to stay ahead of his tragic past. When he stops one night to assist Birdie, who has been in a massive car crash, they pull an artifact from the wreckage that throws their lives into fifth gear. Suddenly, a typical midnight run has become a frantic journey through a surreal world where Dom and Birdie find themselves the quarry of strange and impossible monsters. It's grindhouse horror meeting high-concept supernatural fantasy in the first issue of a bold new miniseries from JEFF LEMIRE (THE BONE ORCHARD MYTHOS, LITTLE MONSTERS) and GABRIEL HERNÁNDEZ WALTA (The Vision, Hellboy and the B.P.R.D: Old Man Whittier), the Eisner Award-nominated creative team behind the bestselling Sentient series.
Date Available: 03/08/2023

BONUS REVIEW by

Jim B.








Okay, hold on what's going on here? Trucker drives upon a car wreck and all heck breaks out!?! That's just the start of Jeff Lemire's latest epic comic book tale, Phantom Road. Here in this Image Comics series 'Sweet Tooth' creator, Jeff Lemire teams up with 'Vision' artist, Gabriel H. Walta and colorist, Jordie Bellaire to produce this week's Must Read comic book. Chapter One serves to introduce the story's lead character and sets him on his way to who knows where. Pick this one up and you'll be tasked with finding something to do to fill the days of your calendar until issue number two of Phantom Road arrives at your favorite Graham Crackers Comics locale. Good luck.



I give it 8 out of 10 Grahams


VERY FINE/NEAR MINT
(W) Jeff Lemire
(A) Gabriel Hernandez Walta, Jordie Bellaire
(CA) Gabriel Hernandez Walta
MINISERIES PREMIERE Dom is a long-haul truck driver attempting to stay ahead of his tragic past. When he stops one night to assist Birdie, who has been in a massive car crash, they pull an artifact from the wreckage that throws their lives into fifth gear. Suddenly, a typical midnight run has become a frantic journey through a surreal world where Dom and Birdie find themselves the quarry of strange and impossible monsters. It's grindhouse horror meeting high-concept supernatural fantasy in the first issue of a bold new miniseries from JEFF LEMIRE (THE BONE ORCHARD MYTHOS, LITTLE MONSTERS) and GABRIEL HERNÁNDEZ WALTA (The Vision, Hellboy and the B.P.R.D: Old Man Whittier), the Eisner Award-nominated creative team behind the bestselling Sentient series.
Date Available: 03/08/2023

BONUS REVIEW by

Jim B.








Okay, hold on what's going on here? Trucker drives upon a car wreck and all heck breaks out!?! That's just the start of Jeff Lemire's latest epic comic book tale, Phantom Road. Here in this Image Comics series 'Sweet Tooth' creator, Jeff Lemire teams up with 'Vision' artist, Gabriel H. Walta and colorist, Jordie Bellaire to produce this week's Must Read comic book. Chapter One serves to introduce the story's lead character and sets him on his way to who knows where. Pick this one up and you'll be tasked with finding something to do to fill the days of your calendar until issue number two of Phantom Road arrives at your favorite Graham Crackers Comics locale. Good luck.



I give it 8 out of 10 Grahams