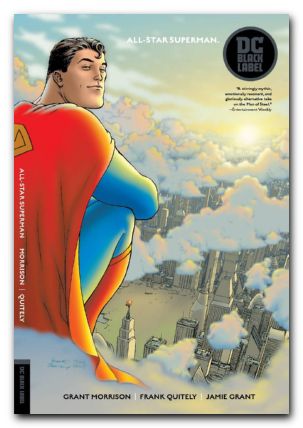 All Star Superman TPB Black Label
$29.99
Quantity
Add to Cart
Add to Wishlist
VERY FINE/NEAR MINT
(W) Grant Morrison
(A/CA) Frank Quitely
The complete 12-issue run of ALL-STAR SUPERMAN by Grant Morrison and Frank Quitely is collected in a new trade paperback as part of the Black Label line! Witness the Man of Steel in exciting adventures featuring Lex Luthor, Jimmy Olsen, Lois Lane, Bizarro and more! Plus: Superman goes toe-to-toe with Bizarro, his oddball twin, and the new character Zibarro, also from the Bizarro planet.
Date Available: 11/28/2018

BONUS REVIEW by

Dan W.






All-Star Superman engages you with surprising pathos; what happens when the Man of Tomorrow is dying today?

Supercharged by a mission to the Sun, Superman is more powerful than ever, but that same power is killing him. Playing out as a "last will and testament of Superman," All-Star showcases a legendary Superman reminiscent of the Silver and Bronze Ages, with time travel, alternate universes, and bold, larger than life, four-color storytelling, while never missing the small human moments that make Superman more than some indestructible alien. One of the best Superman stories ever published.

I give it 10 out of 10 Grahams


VERY FINE/NEAR MINT
(W) Grant Morrison
(A/CA) Frank Quitely
The complete 12-issue run of ALL-STAR SUPERMAN by Grant Morrison and Frank Quitely is collected in a new trade paperback as part of the Black Label line! Witness the Man of Steel in exciting adventures featuring Lex Luthor, Jimmy Olsen, Lois Lane, Bizarro and more! Plus: Superman goes toe-to-toe with Bizarro, his oddball twin, and the new character Zibarro, also from the Bizarro planet.
Date Available: 11/28/2018

BONUS REVIEW by

Dan W.






All-Star Superman engages you with surprising pathos; what happens when the Man of Tomorrow is dying today?

Supercharged by a mission to the Sun, Superman is more powerful than ever, but that same power is killing him. Playing out as a "last will and testament of Superman," All-Star showcases a legendary Superman reminiscent of the Silver and Bronze Ages, with time travel, alternate universes, and bold, larger than life, four-color storytelling, while never missing the small human moments that make Superman more than some indestructible alien. One of the best Superman stories ever published.

I give it 10 out of 10 Grahams